July 1st Is International Joke Day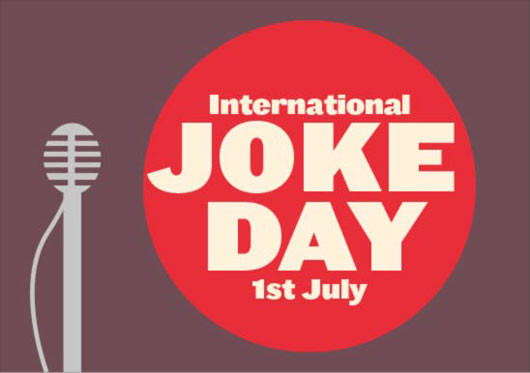 By Cindy Eslinger

It is said that "laughter is the best medicine", but did you know that Medical science has also accepted that laughing enables you to fight off illness by boosting your immune system?

The first joke originated in ancient Greece by Palamedes and the first laughter club was formed in 350 B.C., which tells us that humans have always enjoyed cracking jokes and having a good laugh.

Although the creator and the origin of International Joke Day are unknown, we along with the rest of the world, celebrate that humorous holiday on July 1st.  While so many people across the planet are suffering from illness, personal tragedy and national disasters, it's great to think that anyone can spread a little happiness and laughter to those around us. There is no bigger exhilaration in this world than being happy and spreading that happiness. Cracking a joke or two, making funny gestures, rotating mirthful videos, and emailing humorous anecdotes are just some of the activities that are used to spread joy on July 1st.

It is said that laughter is contagious.  The more you laugh, the better the probability you have of making the world around you a better place to live.  Laughter is also a big part of childhood and can prompt some of the best memories. Some people tell jokes when they are in uncomfortable situations to ease tension, while others make joke telling a regular part of their daily lives. 

Whatever the reason you use for telling jokes, remember the Japanese proverb, "time spent laughing is time spent with God."  Perhaps Today Ministries can help you find joy and laughter as you seek God's will for your life.