This year's 2015 winner of the "Gia Glinatsis - Care to Share Award" – Cheryl Ciambotti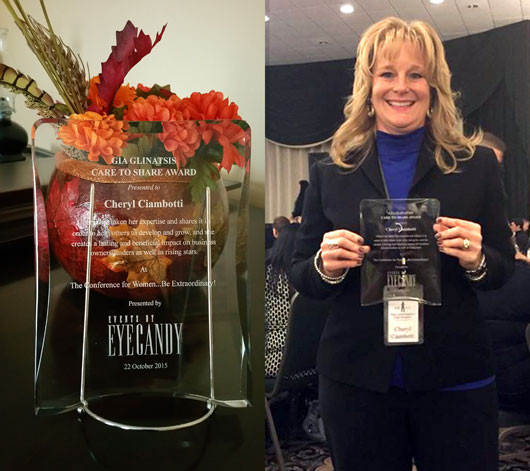 Congratulations to our own Pastor Cheryl Ciambotti on winning the prestigious 2015 Gia Glinatsis Care to Share award at the Conference for Women…Be Extraordinary, presented by Events by Eye Candy! Cheryl has taken her expertise and shares it in order to help others to develop and grow, and she creates a lasting and beneficial impact on business owners and leaders as well as rising stars.

If you are unfamiliar with what Cheryl does here is a quick review.

Pastor Cheryl Ciambotti is the Founder, CEO and President of Perhaps Today Ministries based in Etters PA since 2010. She is an ordained minister and a Certified Recovery Specialist.

Perhaps Today Ministries is a well-respected non-profit organization that offers Christian spiritual counseling for donations only. Cheryl's goal through Perhaps Today Ministries is to encourage support and mentor individuals both personally and professionally. The organization was constructed "to aid the disadvantaged, hurting and those in great need by offering counseling without fees – only asking for a tax-deductible donation where both the company and the client benefit; to facilitate education to the community, to provide personal growth and enrichment, to get people involved in their community; and finally to offer diverse and multi-leveled benevolence services."

Perhaps Today Ministries provides a location and counseling services that allow individuals to speak confidentially without fear of shame or judgement and receive council at a cost of their choosing. One mentee referred to Cheryl as "a fireball of passion in her ministry and in the service of others".

Cheryl says of her motivation: "The success of my clients inspires me to continue this work and to search for more and better ways to serve."

Again, we congratulate Cheryl on this well-deserved award! For more information about Cheryl or the organization see the website www.perhaps-today.com .