Slow Cooker St Patrick's Day Corned Beef and Cabbage
What would St. Patrick's Day be without this version of our Slow Cooker St. Patrick's Day Corned Beef and Cabbage recipe? It's a favorite in traditional Irish dishes. Enjoy a fully prepared meal that literally cooks itself!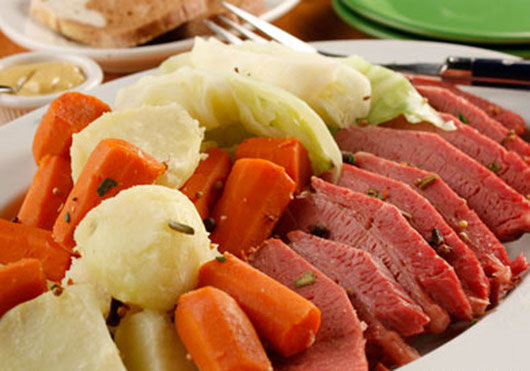 SERVES: 4
COOK TIME: 7 Hr

What You'll Need:
4 large carrots, peeled and cut into 2-inch chunks
4 large potatoes, peeled and cut into quarters
1 (3- to 4-pound) corned beef brisket (seasoning packet included)
1 green cabbage, cut into 1-inch wedges
1 1/2 cups apple juice
1 1/2 cups water
What To Do:
Place carrots and potatoes in a 5-quart or larger slow cooker. Place corned beef on top and sprinkle with seasoning packet. Add apple juice, and water.
Cover and cook on low setting 6 hours. Add cabbage and continue cooking another 1 to 2 hours, or until beef and cabbage are tender. Remove beef, potatoes, and vegetables to a platter and season with salt and pepper to taste. Serve immediately.
Read more at: http://www.mrfood.com/beef/slow-cooker-corned-beef-and-cabbage