Gardening Tips for April
By Kirk Brechbiel

Gardening is America's favorite leisure outdoor activity, enjoyed by more than 78 million people, according to the National Gardening Association. Hopefully, soon, we can forget this winter and get in the garden. For most of us, gardening provides an opportunity to commune with the natural world, and creates a sanctuary that promises relief from the stresses of everyday life. Yet for older adults, all the digging, hoeing, weeding, mowing and watering - the necessities that make a garden beautiful - can be especially hard on backs, shoulders and knees. That can turn a labor of love into a chore we dread, or even one we must give up as we become physically less able. Below are tips for modifying tools and gardening techniques that can make all the difference for the senior gardener.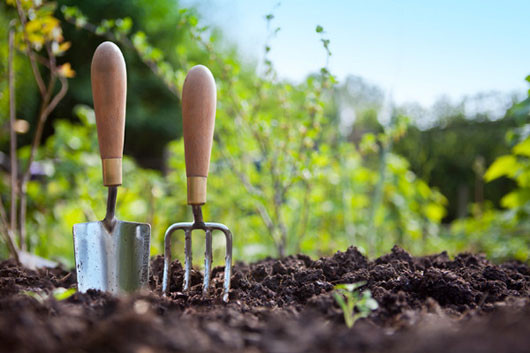 Gardening Tip #1: Start with the right tools, and make them do the work. Give away those heavy steel tools. Keep your tools sharp. Use the right tool for the job. Use handle extenders and reachers to reduce stress.

Gardening Tip #2: Use gardening gloves to protect your hands and provide extra cushioning. This gardening tip will protect your hands and prevent injuries. Spend a little more and get gardening gloves with leather palms, or get "rose gloves" that protect your hands from thorns.

Gardening Tip #3: Use shortcuts to make gardening go faster. Replace annuals with perennials to get garden color with less effort each year. Stagger planting times and choose plants that bloom at different times to provide color through most of the year.

 Gardening Tip #4: Keep cool and protected with the right clothes and accessories. Wear lightweight clothing, a long sleeved shirt, eye protection, sunscreen, and a big hat. Garden early in the morning or late in the day. Avoid being out between 10:00 a.m. and 2:00 p.m

Gardening Tip #5: Try container gardening for ease and accessibility.  Containers can provide a variety of colorful and fragrant flowers, as well as delicious vegetables, and they are easier to manage than a garden. Save your back by placing the container where you want it, then filling it with soil, natural fertilizer, and plants.

*For more tips for seniors go to Ella Home Care at www.ellahc.com.