Carrot Soup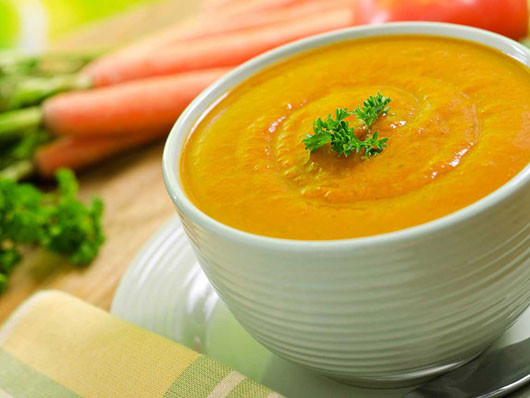 Ingredients:
2 Tbsp canola oil               
4 cups carrots, trimmed and sliced       
7 cups vegetable, chicken broth or stock
1 large onion diced, about 2 cups
½ cup heavy cream
2 cups peeled russet potatoes
Kosher salt and black pepper
¼ cup parsley or chives chopped

Directions:
Heat oil in a 4 quart pot and add onion and carrots.
Sweat for 5 to 8 minutes, or until vegetables are translucent and tender.
Add potatoes and stock/broth and bring to a boil.
Reduce heat and simmer for 35-40 minutes.
Puree soup in a blender and return to the pot.  If you use an immersion blender the texture will not be smooth.
Add heavy cream and blend in.  Adjust seasonings and stir in herbs.  Serve with croutons.

Crouton Recipe:
1 loaf Italian bread cut into 1" croutons
Extra virgin olive oil as needed
Kosher salt and black pepper
Preheat oven to 400 degrees. Toss croutons lightly with olive oil and salt and pepper on a cookie sheet.  Arrange in a single layer and bake for 10-12 minutes or until lightly browned.
Variations for soup: replace carrots with broccoli or cauliflower.
*If soup seems to need a "pick-me-up" add a tablespoon of lemon juice. It adds a delightful texture!