Carnival Prayers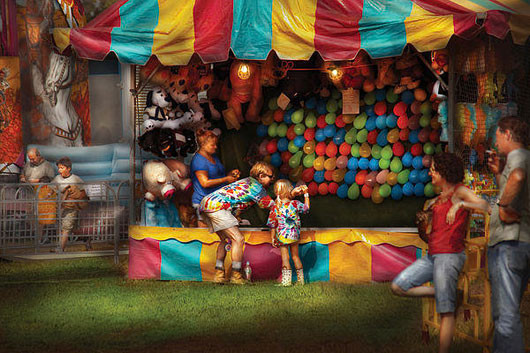 By Sherry Myers

On a steamy summer night, not long ago, my sister invited me to go to along with her and her son to a local carnival. I had a little free time on my hands, so I went.

When we got there it was still humid out. My nephew wanted to head for the rides right away and I made a quick exit to the nearest open bench. As I sat, I saw an elderly couple that had brought two gentlemen along with them. They were childlike. It was obvious they depended on the elderly couple to take care of them. I thought about the responsibility it must be for the couple.

 As I watched them, it was clear that they were having the time of their lives. The woman would lead one around and the man the other. I began to pray for a release of healing for the gentlemen and strength for their caretakers.

I figured that this was why I ended up on this bench at the carnival on this humid evening, to pray for the less fortunate at the carnival. As the night went along, I noticed some people that were dressed well and it was obvious that they were doing well. The right look, the right hair, smile, jewelry, all the tell-tale signs. There were pretty girls in tight clothes being followed around by boys and their intentions. All of them laughing and seeming to be enjoying the night.

The Lord began to impress upon me that they may have problems that I can't see in their lives. They may have heartaches or lost loved ones.  And what about the young pretty girls? They could be used for their beauty and the young boys could need strength to hold onto their values. They may need prayer to stay strong in this world today.

The Lord opened my eyes to my conditioned thinking. He reminded me of those two young gentlemen from earlier in the evening. He put a feeling in my heart that one day they would leap and run in the Kingdom of Heaven. They were having a wonderful time, ignorant to the pressures and concerns that most of us face.

I learned a lot on that hot summer night about seeking to see things as God sees them and asking Him to open my eyes to see the prayer needs of others.