20 Minute Skillet Salmon
Healthy minds and healthy bodies work best when both are being nourished properly. We will now be adding a new feature for Perhaps Today News. 
Each month we will add a healthy delicious recipe.
This month's choice is: 20 Minute Skillet Salmon
Click this link to see a quick video on how to prepare this dish.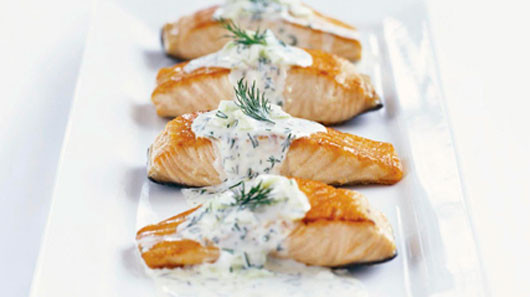 What you need:
4  salmon fillets (1 lb.)
1 cup fat-free milk
1/2 cup (1/2 of 8-oz. tub) PHILADELPHIA 1/3 Less Fat than Cream Cheese
2 cups chopped cucumbers
2 Tbsp. chopped fresh dill
2 cups hot cooked long-grain white rice
HEAT large skillet sprayed with cooking spray on medium-high heat. Add fish; cook 5 min. on each side or until fish flakes easily with fork. Remove from skillet; cover to keep warm. 
ADD milk and reduced-fat cream cheese to skillet; cook and stir until cream cheese is completely melted and mixture is well blended. Stir in cucumbers and dill. 
RETURN fish to skillet. Cook 2 min. or until heated through. Serve over rice and; top with cream cheese sauce.
Add steamed vegetables to complete the dish.